Training camp!
'De Wilgenweard' is the perfect location for a training Camp. We are surrounded by sport facilities and are located next to the forest and the water. We offer the optimal conditions for a memorable and effective training camp!
(Top) sport is in our DNA, we strive to give a personalized service from the first contact until the end of the camp. We offer customized training and packages. Practically everything you need for a targeted training camp we offer. The right sport facilities, a sport hostel for over 24 people, several teambuilding- and entertainment activities and flexible, helpful and sportive employees.
Sports facilities within walking distance
12 soccer fields  and an artificial grass field for soccer
8 Tennis courts and two synthetic grass courts
Hockey fields at 500 m.
Swimming pool with water polo bath at 1.2 km
sports centres at 1,2 and 1,5 km
running track and survival course at 500 metres
Cycling course at 500 m.
The national park "Sallandse Heuvelrug" directly next door. The "Sallandse Heuvelrug" provide perfect conditions for walking, running, canoeing and (mountain)bike training.
Sport Hostel
Our hostel provide professional facilities for training camps,  groups,  individual athletes and sports teams. The perfect facilities, surrounding and our flexible and helpful employees make sure the only pressure you'll have is the training, we take care of the rest.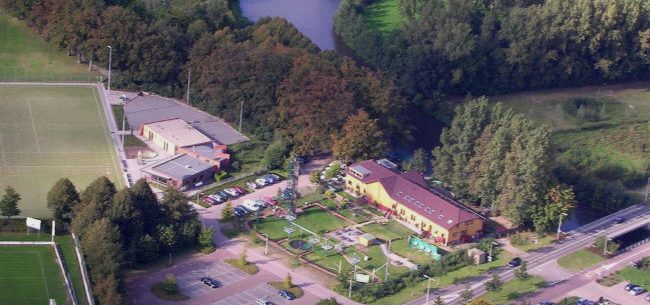 Facilities we offer:
12 twin rooms with shower and toilet (per 4 persons)
Large changing rooms for men and women with showers
Cleaning place for bikes
Workplace for bikes
A big storage room for bicycles and other attributes
Relax room
A various of activities (entertainment, sportive, teambuilding)
Excellent chefs with experience in sport meals
flexible and sport minded staff